The GaitSmart Pegasus sensor-based equine movement analysis system enables the monitoring of gait and changes in limb movements for equines. Gait analysis is ideal for monitoring rehabilitation and can be made available to other equine professionals. Improvements in range of movement can be shown by comparing the latest gait analysis data.
The system records the range of movement in the sagittal plane (forwards and backwards) and the coronal plane (side to side) and analyses the symmetry of all limbs.
• How does your horse move (this will be your baseline for movement)?
• How do the limbs move in relation to each another?
• Is your training affecting the movement of your horse?
• How is your horse recovering from injury?
• Understand how your horse moves with no rider influence?
Read more
Rehabilitation:
GaitSmart Pegasus provides baseline data for the current range of movement of the horse and enables monitoring of the ongoing progress throughout the period of rehabilitation. GaitSmart Pegasus provides comparisons on a range of movement of all limbs: fore cannon; hind cannon; radius; tibia, plus knee and hock angles.
Competition:
Performance profiling is available for competition horses to help identify areas for improvement during training.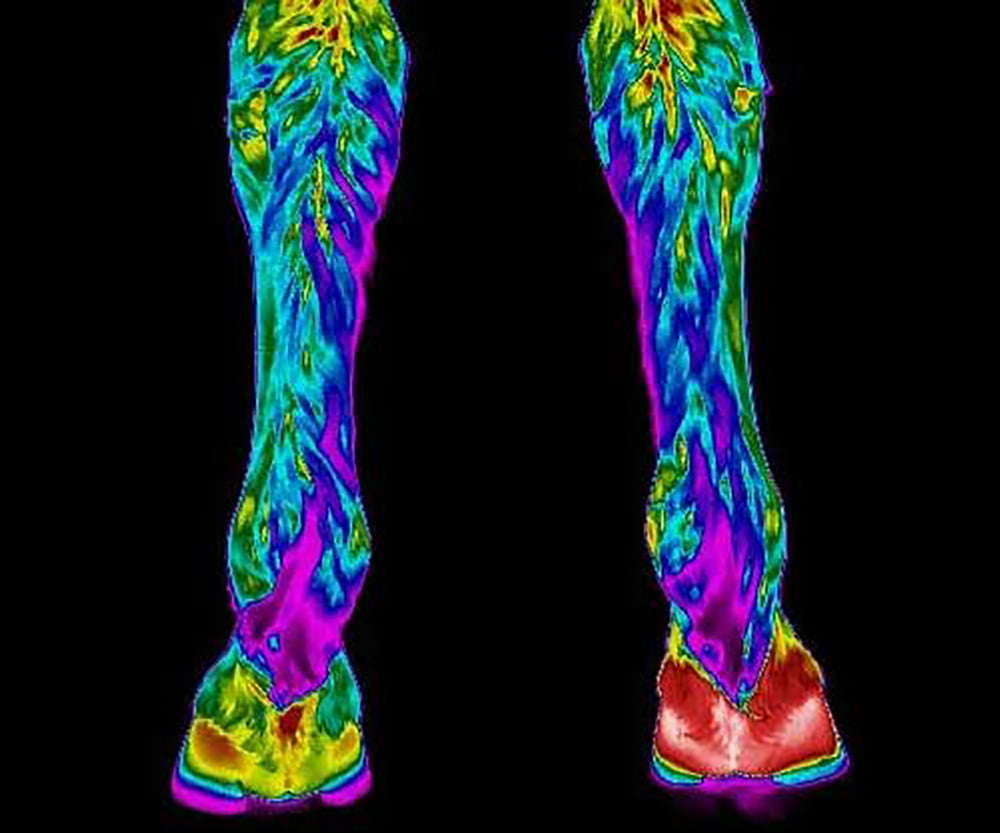 COMING SOON !
Thermographic imaging, a non-invasive, safe monitoring tool, able to detect minute differences in the horse's thermal and neural condition, and identify areas of asymmetrical thermal patterns. Used under strict environmental protocol conditions, thermal imaging is able to detect damage in structures up to three weeks before there are any clinical signs of lameness.
Rehabilitation:
Used as a monitoring tool for horse's recovering from injury, before bringing the horse back into work or training and monitor horses during work.
Competition:
Used as a preventative tool in the training and performance of the horse used on a regular basis throughout the competition season, to monitor the horse's performance and identify any areas of concerns.
The TheraPlate utilizes a low - amplitude orbital motion. Designed by experts and is the result of 30 years of experience. The platform's motion causes the muscles to rhythmically contract and release, relaxing the tissues while enhancing muscle tone and increasing circulation.
The increased circulation has a range of benefits, from improved healing rates of many soft tissue injuries to better hoof growth, to increase bone density.
Rehabilitation:
• Aids in reducing swelling & inflammation in joints, muscles & tendons.
• Improves joint health and function.
• Increases the speed of a fracture healing, with zero impact experience.
• Increased circulation improves the healing rate of soft tissue injuries, ligaments and tendons, and increased hoof growth.
Read more
Competition:
• Regular use improves your horse's balance.
• Increases muscle mass.
• Improves joint mobility.
• Helps maintain bone density.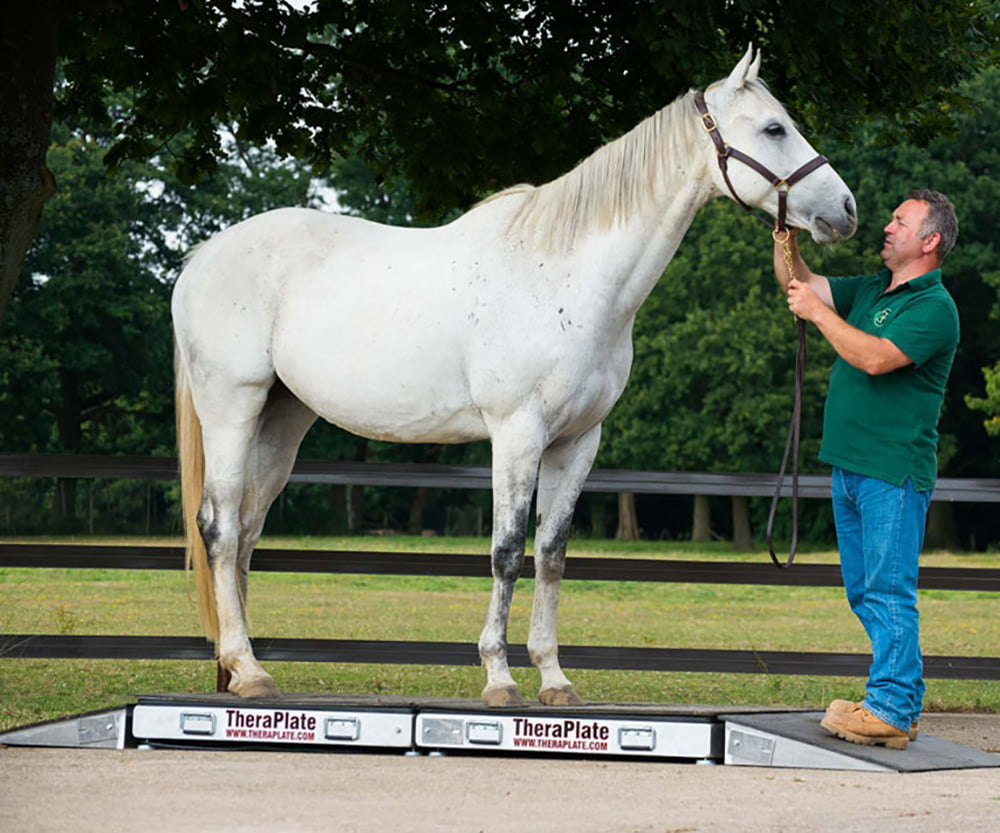 ArcEquine is the smallest microcurrent device in the world. It is a wearable, completely drug free, non-invasive pain management and tissue repair system that mimics the body's electrical biocurrents in order to boost the production of ATP within the body's cells. ATP is the energy component of the cells and is responsible for the flow of nutrients.
Injury, disease or tissue damage disrupts the normal electrical currents within the cells and decreases the rate of ATP production. Microcurrent stimulation increases ATP production by up to 500% kick starting and accelerating the body's own recovery, allowing for the reduction of pain and inflammation, and for healing to start earlier.
• Increase ATP
• Increase Protein Synthesis
• Reduce Inflammation
RENTAL UNITS also available for hire.
For further information please email us at info@equipoiseperformance.co.uk
Applied Equine Podiatry being the study of the hoof encompasses all of the cutting-edge research and results that aids the horse in healing itself and perform as it was mean't to perform.
By creating the proper environment for the horse, allowing correct pressure to be the stimulus for growth. By understanding the individual internal structures of the foot and there individual functions and their relationship with each other, is essential in returning health to the foundation of the horse.
Through understanding the process of Physiological Sequencing, Soft tissue, Dynamic tissue and Static tissue, and how it applies to the structures of the Equine Foot, we can be more proactive in our approach to prevent problems from occurring and aid in rehabiliation.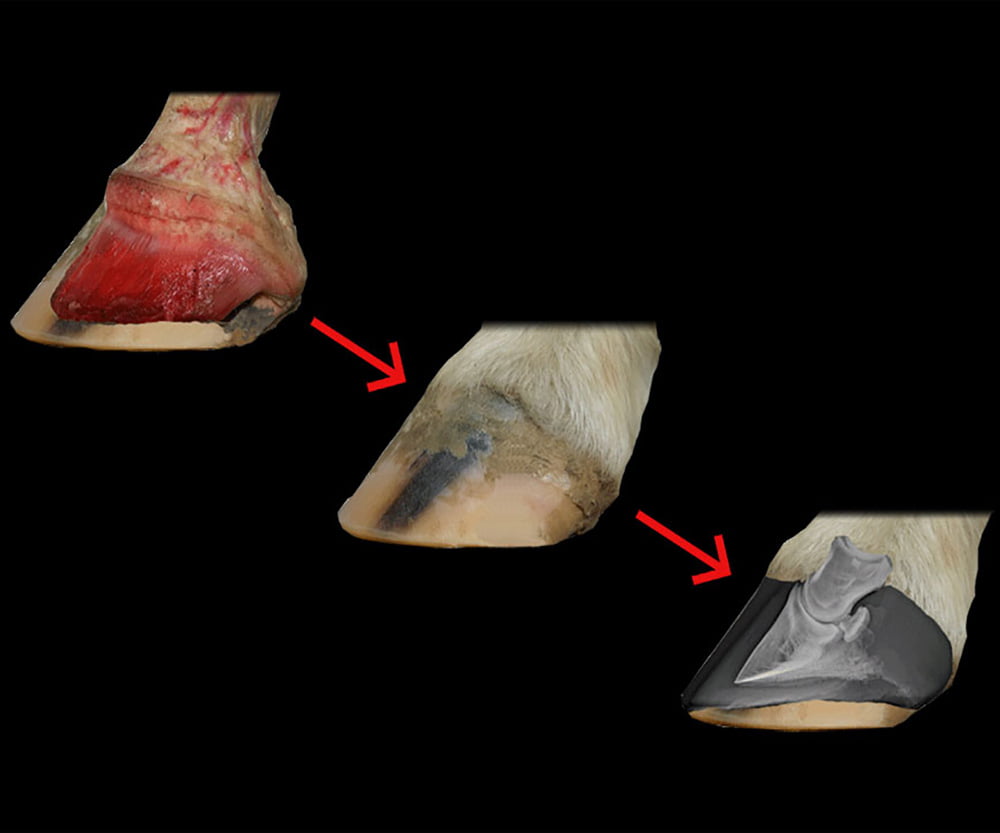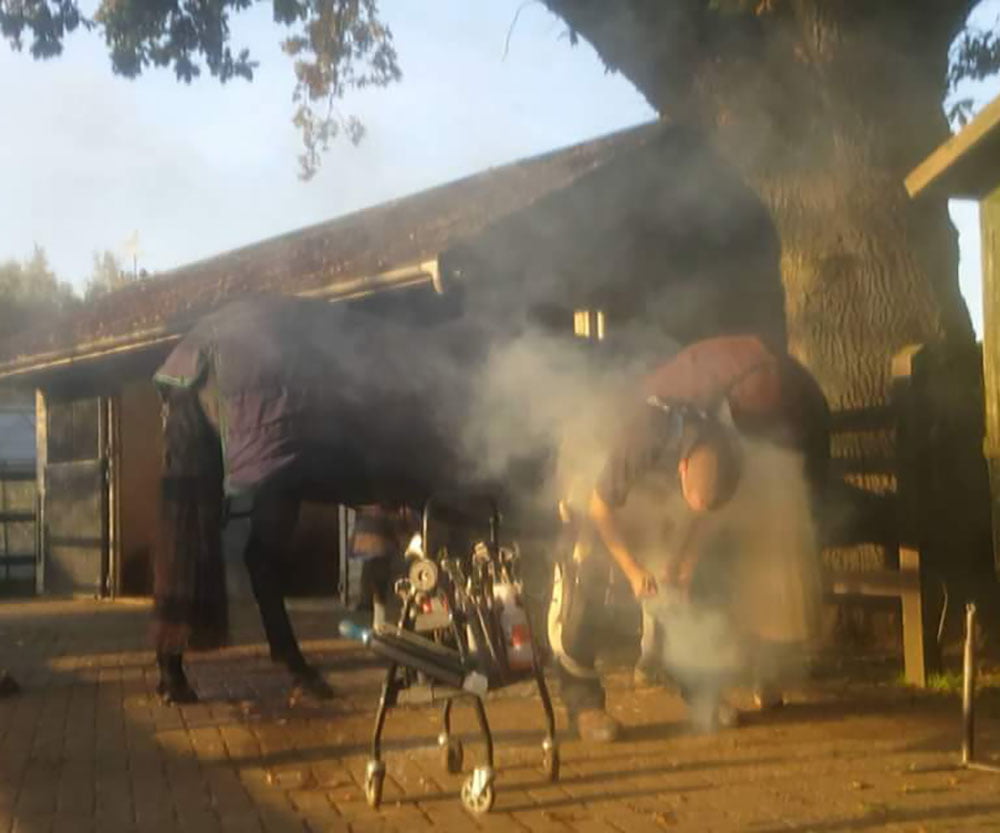 Specialising in Equine Hoofcare, farriery is built on a 2000 year history, an expert on the equine foot and lower limb of the horse.
As a highly qualified individual, and valued member of the equestrian community with a sound knowledge of theory and practice, capable of shoeing all types of equine feet, or making shoes to suit all types of work.
The science and research of the equine foot is always evolving, working alongside other Equine Professionals is an important aspect, with the main objective to improve the health and wellbeing of the horse.
Headquartered in Dubai, and a division of D2M Solutions, FormaHoof develops advanced innovative podiatry systems for hooved animals using state-of-the-art technologies.
Its unique, patented products are designed, engineered and manufactured in the United Arab Emirates, and FormaHoof has collaborated with world industry leaders from many fields including: equine health professionals, farrier podiatrists, elite sportsmen, jockeys, high goal polo teams, jumping and endurance equestrians and many more, to develop cutting-edge technologies to provide the most advanced hoof care in the industry.
They have used our in-house advanced 3D technologies, more normally associated with the aerospace, defense and automotive sectors to develop, design and engineer its portfolio of FormaHoof products. Their patented proprietary products are set to revolutionize hoof care. The FormaHoof® team is extremely passionate about the well-being of horses and has put extensive research into its line of FormaHoof products that includes FormaHoof Reform, FormaHoof Performance, FormaHoof Barefoot, Foal Extensions and High-Performance Traction, with more to come.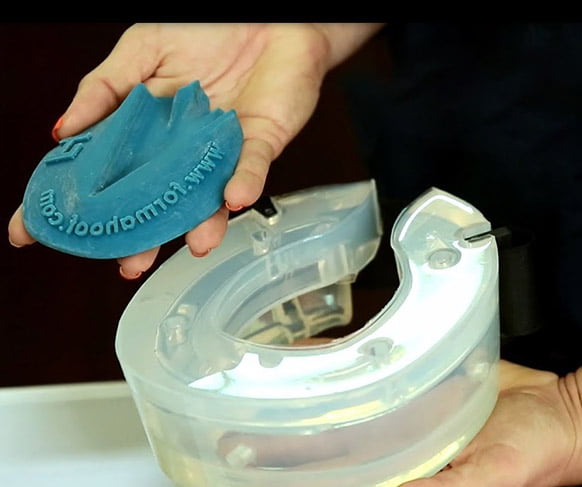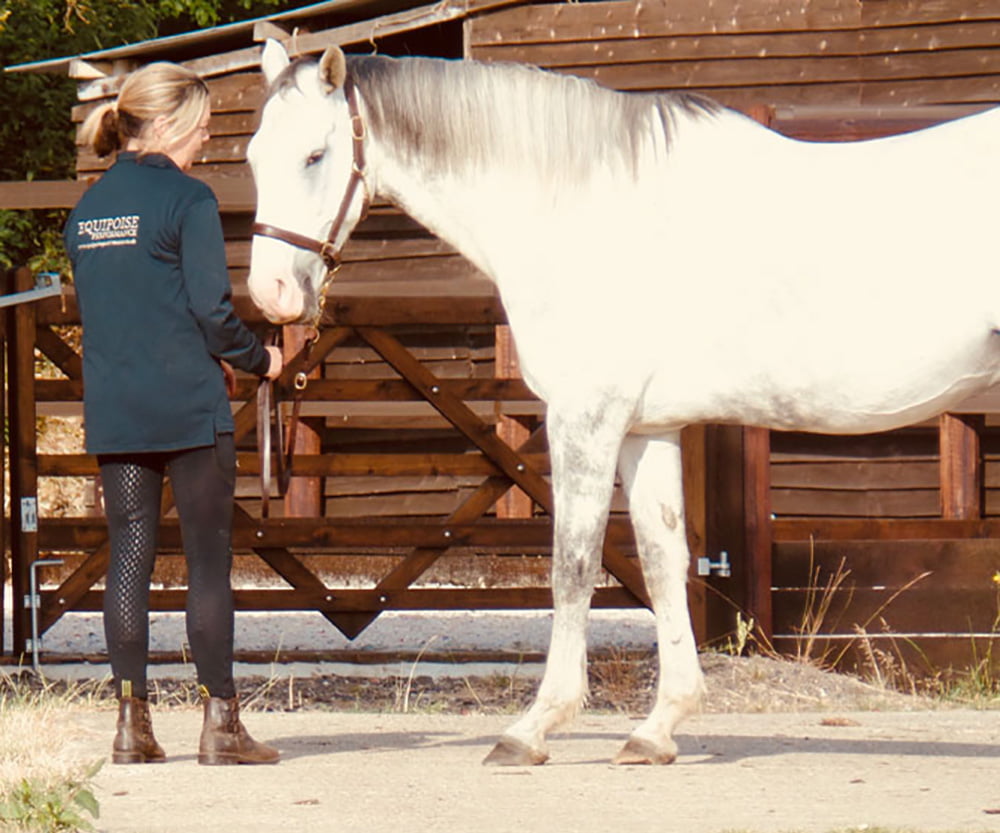 Through the study of Equine behaviour, it is important to understand why a horse displays a certain behaviour for example, pain related behaviour, separation anxiety, phobias, depression, aggression, nervousness.
These behaviours are often due to underlying specific issues. It is important to understand the root cause of the problem, to determine whether pain or discomfort is causing the behaviour in the first instance or whether the horse's management or training is triggering the behaviour displayed.
By recognising when a behaviour exhibited is out context, the underlying problem is easier to solve.
The lymphatic system plays an extremely important role in maintaining homeostasis in the horse's body.
There are approx. 8,000 Lymph nodes positioned in the horse's body. This precise hands-on technique, with specific pressures encouraging lymph flow through the lymphatic drainage system.
• Reduces swelling, inflammation & Oedemas.
• Helps to release fascia.
• Removes excess toxins/detoxifying.
• Stimulates digestions.
• Stress reducing.
• Accelerate muscle regeneration.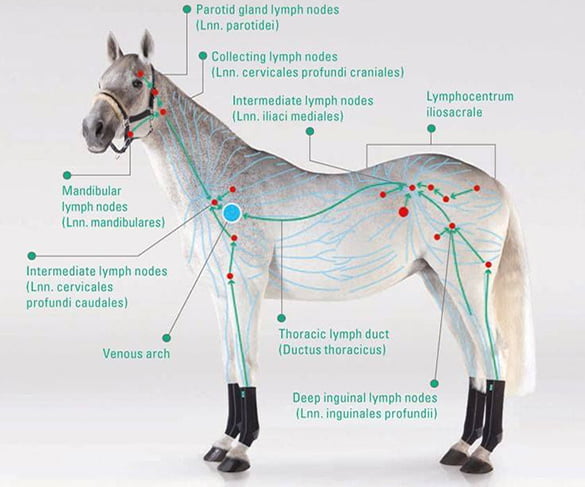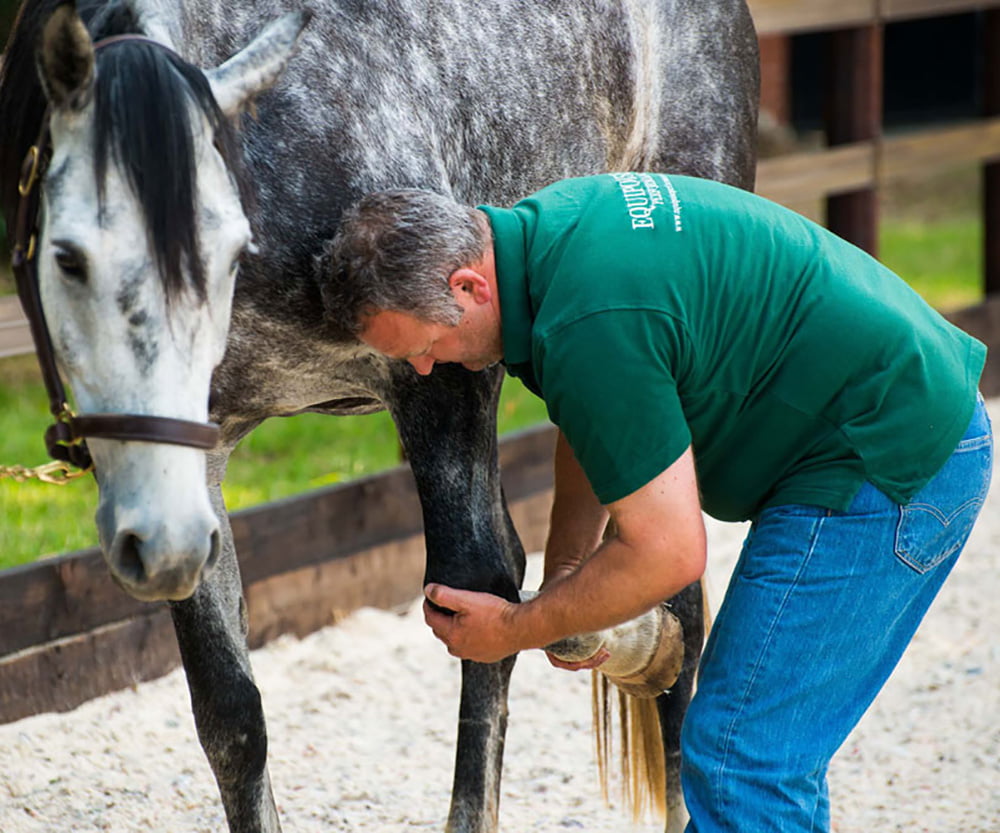 The Masterson Method is an integrated, multi-modality method of equine massage. It is a unique, interactive method of equine massage in which you learn to recognize and use the responses of the horse to your touch to find and release accumulated tension in key junctions of the body that most affect performance.
In contrast to most traditional modalities, it enables the horse to actively participate in the process of releasing tension. It is something you do with the horse, rather than to the horse.
The Masterson Method focuses on releasing tension in key junctions of the body that most affect performance such as the poll, neck/shoulder/withers junction, and sacro/lumbar junction.
The EMMETT Technique is a unique form of body therapy. It involves the application of light finger pressure at specific points, referred to as "Emmett points" to release tension in muscles.
The points are not the same as traditional trigger points or acupressure points or any other points described in any other therapy.
It is this combination of elements, unique to each individual, which creates the desired physical change.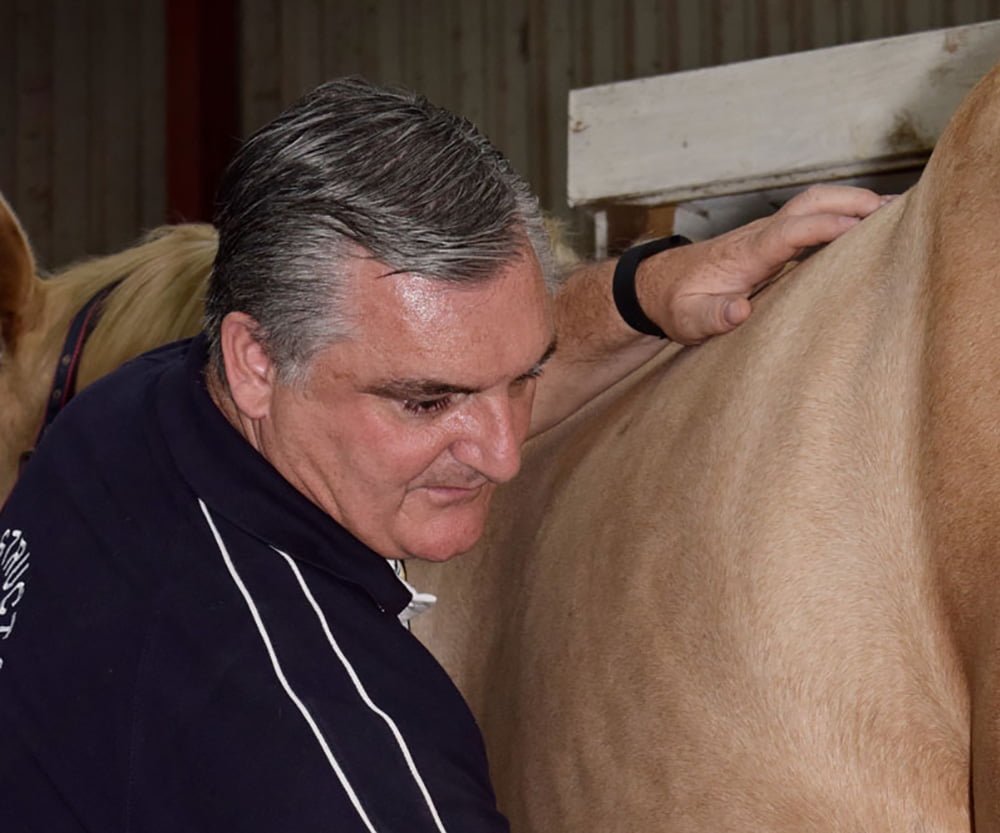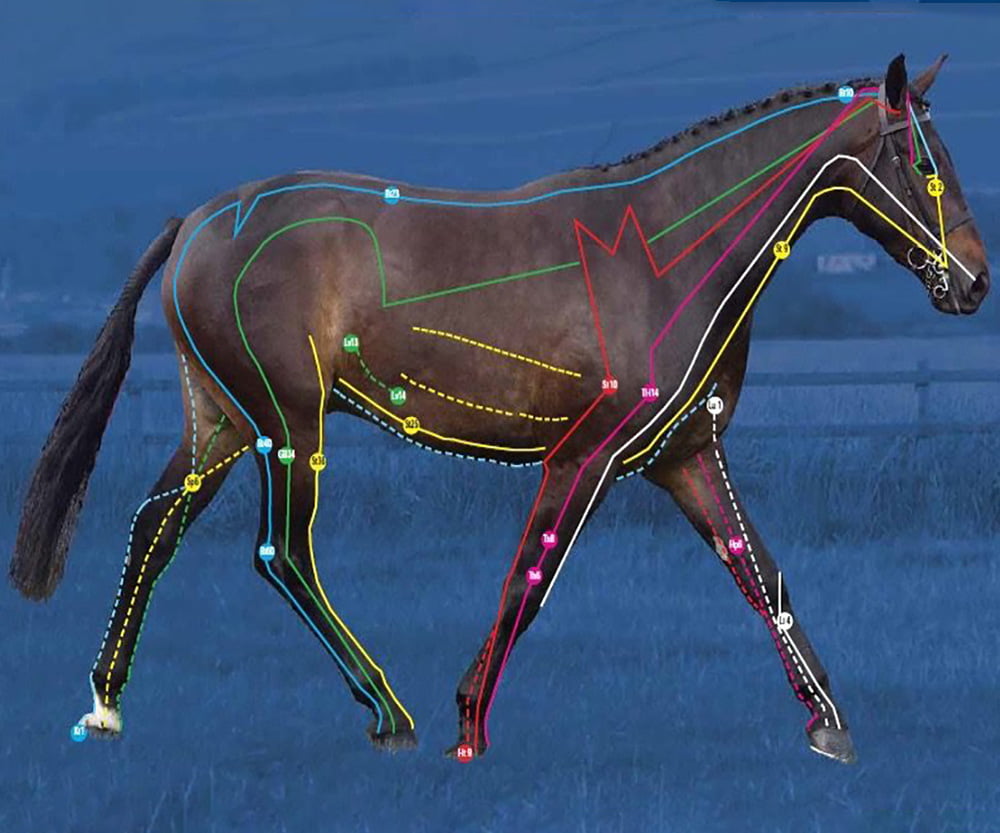 Shiatsu is a traditional Japanese therapy and the word means 'finger pressure'. The same points that are used in veterinary acupuncture are activated with fingers instead of needles to have a positive effect on the body's ability to heal itself and restore health. Underpinned by Traditional Chinese Medicine, it is believed that the mind , body and spirit all need to be in a state of equilibrium in order to be healthy.
All living beings have energy, a life force called Qi and it has been shown that this energy flows through the body along channels called meridians. Each meridian in the body has a direct relationship with an organ or bodily system.
Imbalance of Qi within a meridian can indicate a problem with the corresponding organ or bodily system. Disease or injury can also disrupt the flow of Qi and like someone stepping on a hose pipe, the energy can build up to an excess in front of the blockage and become depleted beyond it.
Equine shiatsu combines finger pressure, massage and assisted stretches to open out the meridians to improve the flow of Qi and restore balance.
At Equipoise we start by identifying what's happening on the inside. We are delighted to work with the very best in the industry the Pure Feed Company and Science Supplements.
Pure Feed Company
We have been working with the Pure Feed Company for two years to ensure it does exactly what it says on the bag. It does and we are delighted to be associated with them. Pure Feed Company's MD, John Calder said: "I am delighted to welcome Denis and Lucy Sexton to the Pure family. Both Lou and I are passionate about not only helping horses maintain the best gut health possible but to support horses recovering from injury and health issues is fantastic."
Science Supplements
Over the years we have researched and tried products that come under the 'equine supplementation banner', but for the first time in many many years we can actually now see the results the Science Supplements range offers. We now carry and offer their entire range and use them on all our horses daily.
Read more
The Science Behind their Products - As equine nutrition specialists, Science Supplements are committed to manufacturing only the finest quality horse supplements which are developed to help keep horses happy and healthy based on the latest scientific research and data. Whether you ride professionally or simply for pleasure, Science Supplements can provide the products that you need to maintain the wellbeing of your horse.